Want NASA data?

Check out our data catalog below or you can read about other open-government websites further down the page.
Go to the DATA CATALOG
Know what you are looking for?

Search for it in our catalog of tens of thousand datasets released to the public!
DATA.NASA.GOV: A catalog of publicly available NASA datasets
DATA.NASA.GOV is NASA's clearinghouse site for open-data provided to the public.
Tens of thousands of datasets are available for you.
Some datasets on data.nasa.gov are harvested from other NASA data archives and other datasets only exist on data.nasa.gov. This slideshow created for SpaceApps Hackathon participants explains the wider NASA data universe and has some suggestions for finding NASA data.
Do You Want to Upload New NASA Datasets?
If you are a NASA individual and would like to upload new datasets, either manually via a webform or programmatically via API, please check out these instructions. Note: You'll need to be behind the NASA firewall to access that link. If you sign-up without following those instructions, you won't be able to add new datasets.
What type of data is available on Data.nasa.gov?
There are thousands of public datasets on data.nasa.gov.
To give the public a better understanding of the different types of datasets available, a data visualization page has been created entirely dedicated to helping our users gain a better understanding as to what kind of data they can expect to find.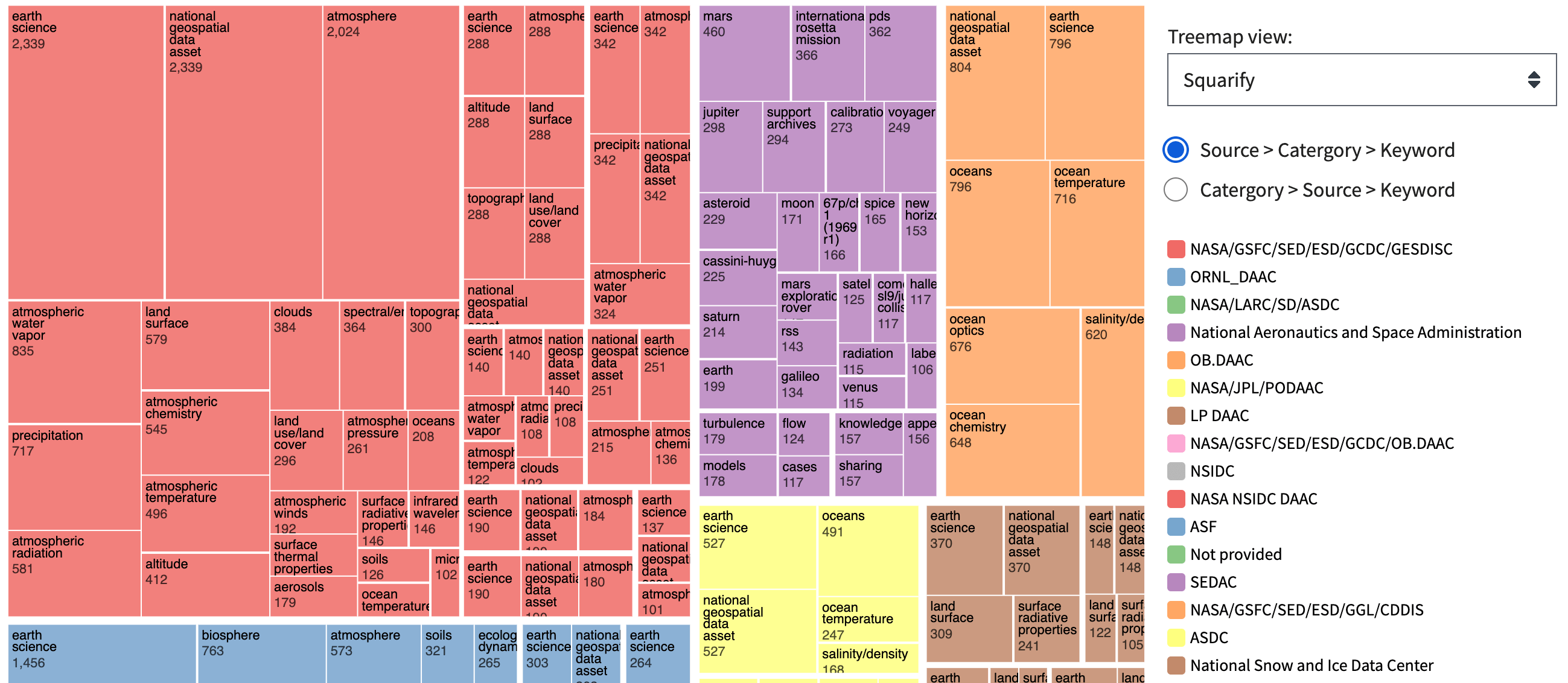 Take me to the visualization page
Open Dataset Resourses Tied to Data.nasa.gov
NASA datasets are available through a number of different websites, not just data.nasa.gov.
Open-Innovation Program
Data.nasa.gov is the dataset-focused site of NASA's OCIO (Office of the Chief Information Officer) open-innovation program. There are also API.nasa.gov and Code.nasa.gov for APIs and Code respectively. Open.nasa.gov is the central page for open-innovation sites and acts as as a home for the datanauts program, which is a public outreach program where members of the public work with NASA datasets.
Open Innovation Sites
A page that contains information on links to all open-sourced NASA code projects.
A clearinghouse site for information about NASA APIs. Acts a passthrough site to NASA APIs elsewhere. Request a key and get to work!
More information about all open-innovation sites like code.nasa.gov and data.nasa.gov. Information about datanauts, a problem that lets the public collaborate with nasa. Information about federal open-data mandates that apply to NASA.
NASA's central open-data site for the public. Aggregates data from different archives and datasets not available anywhere else.
Other NASA Data Sites and Science Archives
Additionally, NASA has a number of data archives, often geared around providing the public with datasets from a particular domain, field of science, or mission. Lastly, there are also open-data and open-code aggregator sites that collect open-data and open-code from across all federal government agencies; code.gov and data.gov. Both of these have some APIs for working with their datasets that make them worth checking out even if you're strickly interested in NASA data.
nasa.gov/open/data has a good overview of all the various science and mission data sites.
A few highligts includes:
Submit an issue if you know of another NASA data site that should be included!